Supercharge your:
Calm
Confidence
Performance
Potential
With Zendo
The world's first neuroenhancement program for Mental Performance.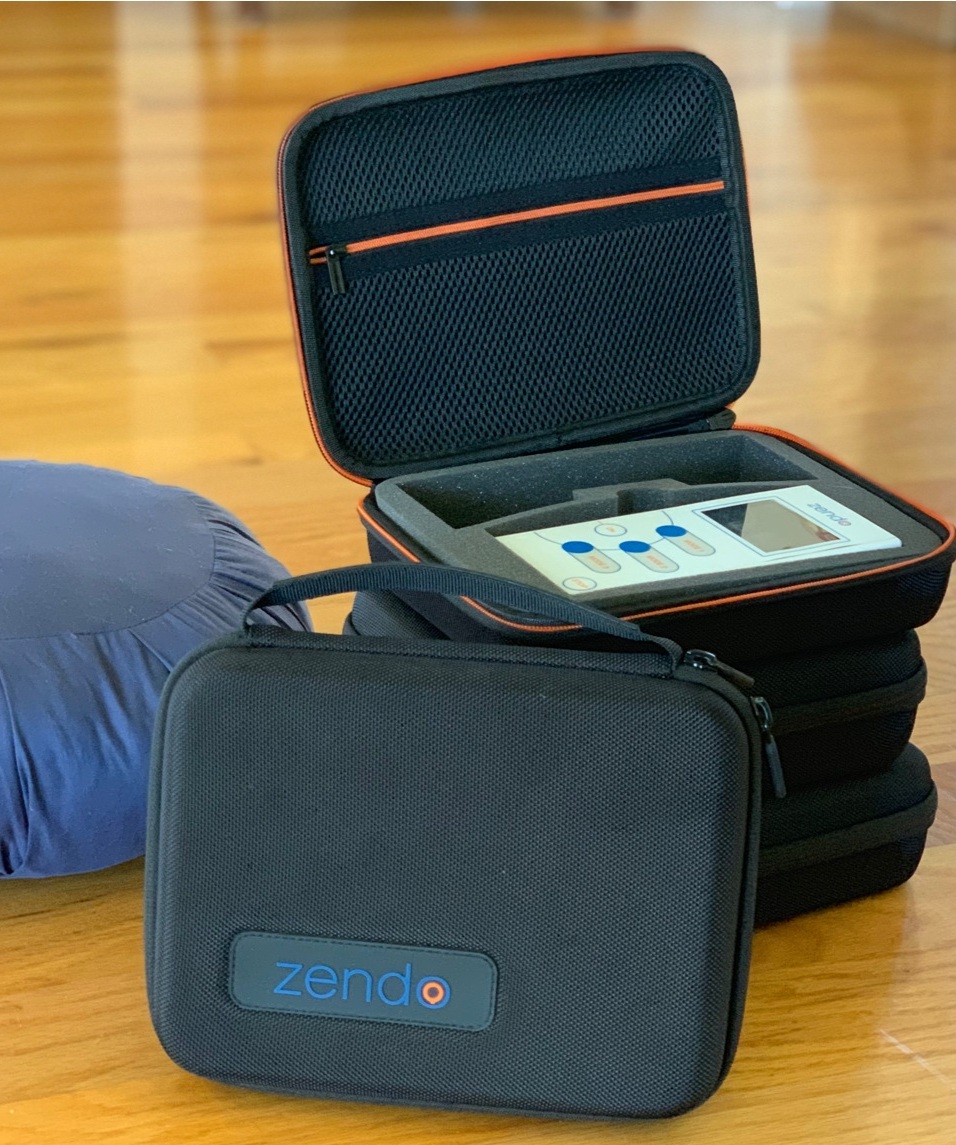 Zendo E-meditation is a form of "enhanced" meditation which uses a proprietary headband that induces and accelerates meditative practice. There are no rules or limit to the form of meditation you practice, as e-meditation enhances all forms for beginners and experts alike. Our team curates a custom-tailored meditation program paired with hardware to meet your organizational needs.
Custom Tailored Brain Training for You and Your Organization
Optimizing your mind is just as important as optimizing your body. Zendo is the world's first wearable that enables the rapid accleration and enhancement of mental training. Rather than taking years, it takes minutes to feel what it's like to be an expert meditator - unlocking endless possibilities in performance, freedom, and fulfillment.
A quiet mind facilitates a heightened sense of calm, capacity to manage stressors, and maintain a powerful flow that can be applied to many personal and professional activities. Zendo is a custom-tailored program that includes a hardware component and training component that are synergistically combined to optimize the mental performance of your organization.
Collegiate and Professional Sports Teams
Zendo locks you in. It puts players in an optimal mindset to perform at peak levels. We believe athletes already have the physical ability to perform at the highest levels - Zendo trains the often ignored mental aspect of athletic performance. Zendo has been used in professional and collegiate clubhouses in the US.

Corporate Health & Wellness Programs
Zendo reduces stress and makes people feel more calm. This quick and easy 20 minute workplace program has the potential to revolutionize the corporate setting and allow for increased happiness and synergy between employees. Meditation programs like Zendo can decrease missed work days, improve focus, attention, and improves the overall health of employees.
Meditation and Yoga Centers
Meditation is hard - Zendo makes it easy. It is difficult to run meditation and yoga centers. Offering Zendo not only makes meditation benefits immediate, but also is used as a tool to facilitate new forms of practice. Zendo is often provided as a supplement for meditators who want to rapidly improve their practice in the studio and retreat setting.
Individual Mental Enhancement
This specific program is intended for business professionals, entrepreneurs, creatives, and thought-leaders that are looking for the edge. We curate short- and long-term Zendo programs for individuals to help accelerate their personal growth and remove mental roadblocks needed to achieve professional and personal goals. Zendo programs may also be designed to combat burn out.
Zendo was developed in a major academic university setting and several studies have demonstrated its numerous benefits. Single Zendo sessions are very powerful - stimulating the meditation centers of the brain and inducing profound reductions in stress and distracting mental thoughts. Multiple daily Zendo sessions have a cumulative effects and have powerful long-lasting positive effects.
2.5x
More Powerful than Conventional Meditation Training
33%
Improvement in feeling calm after a single session
75%
Reduction of stress levels after a Single session
66%
Reduction of Physical and Mental Restlessness
36%
Quietening of the mind and Reduction of Mind Wandering
90%
Zendo is safe and easy to Self-Administer by 90% of Adults
Zendo is a unique combination of a hardware wearable device combined with a custom-tailored meditation program. For this reason, we do not sell devices to the general public quite yet. Zendo is only offered to organizations at the moment via a selective application process. Applying is easy using our online form. We will get back to you quickly and connect with you regarding next steps.